Canada, the second-largest country in the world, is renowned for its breathtaking landscapes, diverse culture, and friendly people. From vibrant cities to pristine natural wonders, Canada offers a wealth of travel destinations for all types of explorers. We present a curated list of the 10 best places to visit in Canada. Whether you're an outdoor enthusiast, a history buff, or a lover of art and culture, these destinations are sure to leave you with unforgettable memories. So, pack your bags and get ready to embark on an incredible Canadian adventure!
1-Banff National Park, Alberta
Located in the heart of the Canadian Rockies, Banff National Park in Alberta is a natural wonderland that attracts visitors from around the globe. With its snow-capped mountains, crystal-clear turquoise lakes, and sprawling glaciers, this park offers a breathtaking and awe-inspiring experience for nature lovers. The opportunities for adventure and exploration are endless, with a vast network of hiking trails that take you through lush forests, along majestic peaks, and to hidden alpine meadows.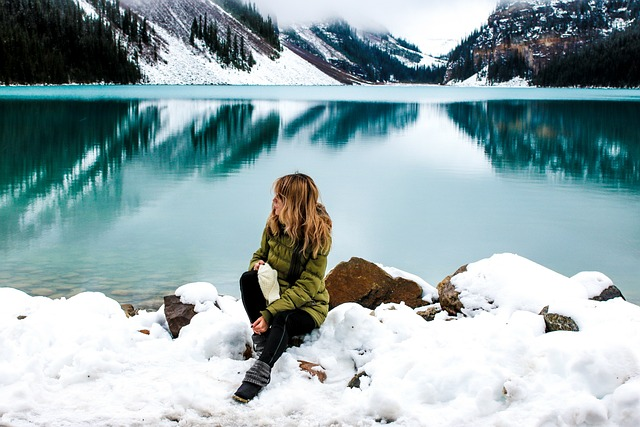 Be sure to visit iconic spots like Lake Louise and Moraine Lake, where the vivid blue waters contrast beautifully with the surrounding mountains. For those seeking relaxation, the Banff Upper Hot Springs provides a soothing experience amidst stunning mountain vistas. The charming town of Banff itself offers a range of accommodation options, delicious dining, and unique shopping experiences. Whether you're an avid outdoor enthusiast or simply appreciate the beauty of nature, Banff National Park is a must-visit destination that will leave you in awe of its natural splendor.
2-Niagara Falls, Ontario
Niagara Falls, located on the border of Ontario, Canada, and New York, USA, is a world-renowned natural wonder that captivates millions of visitors each year. The sheer power and beauty of the cascading waterfalls are truly awe-inspiring, making it a must-visit destination in Canada. Witnessing the mighty Niagara Falls up close is an unforgettable experience, and there are various ways to do so.
Take a boat tour on the iconic Maid of the Mist, where you'll get an up-close and personal encounter with the falls, feeling the mist on your face and hearing the thundering roar of the water. Alternatively, you can explore the tunnels behind the falls for a unique perspective. In the evening, the falls are illuminated with colorful lights, creating a magical atmosphere that shouldn't be missed. Aside from the falls themselves, there are plenty of other attractions and activities in the area, including scenic hiking trails, charming wineries, and the vibrant Clifton Hill entertainment district. Niagara Falls is a true natural wonder that will leave you in awe of its grandeur and power.
3-Vancouver, British Columbia
Vancouver, situated on the west coast of British Columbia, is a vibrant and cosmopolitan city that offers a perfect blend of urban sophistication and stunning natural beauty. Surrounded by mountains and the Pacific Ocean, Vancouver boasts a picturesque setting that sets it apart from other cities. The city is known for its diverse neighborhoods, each with its unique charm and character. Take a stroll through the historic streets of Gastown, known for its Victorian architecture and trendy shops. 
Explore the vibrant and multicultural atmosphere of Chinatown, where you can sample delicious cuisine and visit traditional gardens. Don't miss the opportunity to visit Stanley Park, a sprawling urban oasis with lush forests, scenic trails, and stunning views of the city skyline. For outdoor enthusiasts, there are endless opportunities for hiking, mountain biking, and skiing in the nearby North Shore Mountains. Vancouver is also renowned for its thriving arts and culture scene, with numerous galleries, theaters, and music venues to explore. With its stunning natural surroundings, vibrant neighborhoods, and cultural offerings, Vancouver is a must-visit destination for both nature lovers and city enthusiasts alike.
4-Quebec City, Quebec
Quebec City, the capital of the province of Quebec, is a charming and historic destination that exudes European charm. Steeped in rich history and cultural heritage, Quebec City's UNESCO-listed Old Town is a treasure trove of cobblestone streets, centuries-old buildings, and stunning architecture. The iconic Château Frontenac, a grand hotel perched atop a hill, dominates the skyline and offers panoramic views of the St.
Lawrence River. As you wander through the narrow streets, you'll discover quaint boutiques, art galleries, and delightful sidewalk cafes. Immerse yourself in the French-inspired culture and savor the local cuisine, which includes delectable dishes like poutine and maple syrup treats. Throughout the year, Quebec City hosts lively festivals that showcase its vibrant spirits, such as the Winter Carnival and the Festival d'été de Québec. Don't miss the chance to explore the Plains of Abraham, a historic battlefield turned park, and take a stroll along the charming boardwalk known as the Terrasse Dufferin. 
5-Rocky Mountains, Alberta, and British Columbia
Spanning across the provinces of Alberta and British Columbia, the Canadian Rockies are a majestic mountain range that offers unparalleled beauty and adventure. With towering peaks, shimmering glacial lakes, and vast alpine meadows, the Rockies provide a breathtaking backdrop for outdoor enthusiasts and nature lovers alike. Jasper National Park in Alberta is a paradise for hikers and wildlife enthusiasts, with its stunning landscapes and abundant wildlife, including elk, moose, and bears.
The Icefields Parkway, a scenic highway that stretches between Jasper and Banff National Parks, offers jaw-dropping vistas of glaciers, turquoise lakes, and cascading waterfalls. Along the way, you can even step onto the Athabasca Glacier and witness its icy splendor up close. In Banff National Park, Lake Louise is a must-visit destination, known for its stunning turquoise waters and surrounding snow-capped peaks. For those seeking adrenaline-pumping activities, there are opportunities for skiing, snowboarding, whitewater rafting, and more.
6-Toronto, Ontario
Toronto, the capital city of Ontario, is a vibrant metropolis that offers a unique blend of multiculturalism, iconic landmarks, and a thriving arts and culture scene. Known for its diverse neighborhoods, Toronto is a melting pot of different cultures, cuisines, and experiences. Explore the bustling streets of downtown, where you can visit the iconic CN Tower for panoramic views of the city and even brave the EdgeWalk, a thrilling hands-free walk around the tower's edge. Discover the eclectic Kensington Market, a bohemian neighborhood filled with vintage shops, vibrant street art, and international food stalls.
Take a stroll along the waterfront and enjoy the picturesque views of Lake Ontario. Toronto is also home to world-class museums and galleries, such as the Royal Ontario Museum and the Art Gallery of Ontario, where you can immerse yourself in art, history, and culture. Sports fans can catch a game at the Rogers Centre, home of the Toronto Blue Jays baseball team, or the Scotiabank Arena, where the Toronto Raptors basketball team plays. With its vibrant energy, iconic landmarks, and diverse cultural offerings, Toronto is a city that has something for everyone.
7-Whistler, British Columbia
Nestled in the spectacular Coast Mountains of British Columbia, Whistler is a world-renowned resort town that attracts outdoor enthusiasts year-round. Known for its epic skiing and snowboarding opportunities, Whistler boasts two incredible mountains, Whistler and Blackcomb, which offer a vast network of slopes catering to all skill levels. During the winter season, the town transforms into a winter wonderland, with a lively après-ski scene, cozy cafés, and charming boutique shops. But Whistler is not just a winter destination. In the summer, it's a paradise for hikers, mountain bikers, and golfers. The surrounding mountains are crisscrossed with scenic trails that lead to breathtaking viewpoints and hidden alpine lakes.
Take a gondola ride to the top of the mountains for panoramic views of the stunning landscapes. The village of Whistler itself offers a vibrant atmosphere, with a wide range of dining options, from casual eateries to upscale restaurants. Whether you seek adrenaline-pumping activities or a serene escape into nature, Whistler is the perfect destination for outdoor adventure and relaxation.
8-Halifax, Nova Scotia
Located on the eastern coast of Canada, Halifax is a captivating maritime city that combines a rich history, scenic beauty, and a vibrant cultural scene. Start your exploration at the picturesque waterfront area, where you can stroll along the boardwalk, visit the charming Historic Properties, and enjoy fresh seafood at one of the many restaurants. Immerse yourself in the city's history by visiting the iconic Citadel Hill, a historic fort offering panoramic views of the city and the harbor.
Explore the fascinating exhibits at the Maritime Museum of the Atlantic, which tells the story of Halifax's maritime heritage and its connection to the Titanic. Halifax is also known for its lively music scene, with numerous pubs and venues offering live performances of various genres. Don't miss the opportunity to experience the city's vibrant festivals, such as the Halifax International Buskers Festival and the Halifax Jazz Festival, which showcase local and international talent. With its maritime charm, historical significance, and cultural vibrancy, Halifax offers a delightful blend of experiences for visitors.
9-Prince Edward Island
Prince Edward Island (PEI), located on the east coast of Canada, is a small but enchanting province known for its idyllic landscapes, charming lighthouses, and vibrant red sandy beaches. The island is famous for being the setting of the beloved novel "Anne of Green Gables," and visitors can explore the Green Gables Heritage Place to immerse themselves in the world of Anne Shirley. PEI is also renowned for its delicious seafood, particularly its succulent lobster. Indulge in a seafood feast at one of the island's many seafood shacks or fine dining restaurants.
For outdoor enthusiasts, there are ample opportunities for scenic drives along the coastal roads, where you can discover hidden coves, picturesque fishing villages, and stunning panoramic views. Take a stroll along the stunning Cavendish Beach or explore the breathtaking Prince Edward Island National Park, with its dunes, forests, and hiking trails. PEI is a peaceful and picturesque destination that offers a perfect escape from the hustle and bustle of city life.
10-Churchill, Manitoba
Situated on the shores of Hudson Bay in northern Manitoba, Churchill is a remote and extraordinary destination that is often referred to as the "Polar Bear Capital of the World." Every year, during the fall season, polar bears gather in Churchill as they wait for the sea ice to form. Take a guided tour to witness these magnificent creatures in their natural habitat, either from a specially designed tundra vehicle or on a boat tour along the coastline. Churchill is also a prime location for observing beluga whales, which migrate to the area in the summer months. Embark on a thrilling whale-watching tour or even take a kayak excursion to get up close to these playful marine mammals.
Another natural phenomenon that draws visitors to Churchill is the mesmerizing Northern Lights, also known as the Aurora Borealis. On clear nights, the dancing lights illuminate the sky with vibrant colors, creating a truly magical experience. Despite its remote location, Churchill offers comfortable accommodations, knowledgeable guides, and unique wildlife encounters that make it a once-in-a-lifetime destination for nature enthusiasts.