France, a country known for its rich history, vibrant culture, and breathtaking landscapes, offers a plethora of travel opportunities for explorers and adventure seekers. From iconic landmarks to charming villages, France has something to offer for every type of traveler. In this article, we will explore the top 10 must-visit places in France that will leave you mesmerized and create lasting memories.
1-Paris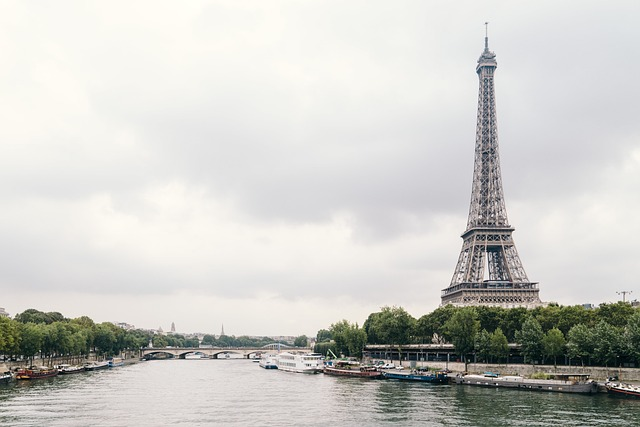 Paris, the capital city of France, is a dream destination for travelers from around the world. This iconic city is known for its romantic ambiance, stunning architecture, and rich cultural heritage. From the magnificent Eiffel Tower, offering breathtaking views of the city, to the world-renowned Louvre Museum, housing masterpieces like the Mona Lisa, Paris is a treasure trove of attractions. Stroll along the picturesque banks of the Seine River, visit the majestic Notre Dame Cathedral, and wander through the charming streets of Montmartre.
Indulge in the culinary delights of French cuisine, savor a croissant in a cozy café, or dine in a Michelin-starred restaurant. With its vibrant atmosphere, historical landmarks, and artistic legacy, Paris truly lives up to its reputation as the "City of Love."
2-Provence
Nestled in the southeastern part of France, Provence is a region blessed with natural beauty, picturesque landscapes, and a relaxed way of life. Famous for its lavender fields, rolling vineyards, and charming villages, Provence offers a tranquil escape from bustling city life. Explore the enchanting village of Gordes, with its stone houses perched on a hilltop, visit the historic city of Avignon and marvel at the well-preserved Papal Palace, or wander through the vibrant markets of Aix-en-Provence.
The region's mild climate makes it perfect for outdoor activities like hiking, cycling, and wine tasting. Delight your taste buds with the flavors of Provencal cuisine, from ratatouille to bouillabaisse, and enjoy a glass of local rosé wine as you soak in the beauty of the countryside. With its blend of natural wonders, cultural heritage, and rustic charm, Provence is a true gem of France.
3-French Riviera
The French Riviera, also known as the Côte d'Azur, is a glamorous and sun-drenched stretch of coastline along the Mediterranean Sea. Renowned for its luxurious resorts, pristine beaches, and vibrant nightlife, the French Riviera is a playground for the rich and famous. Explore the bustling city of Nice, with its stunning promenade and charming old town, or relax on the glamorous beaches of Cannes, known for its annual film festival. Discover the charm of the hilltop village of Eze, with its breathtaking views and narrow cobblestone streets, or indulge in the artistic allure of Saint-Paul-de-Vence, a haven for artists and art enthusiasts. With its azure waters, vibrant culture, and exclusive ambiance, the French Riviera offers a unique blend of relaxation and sophistication.
4-Loire Valley
The Loire Valley, located in central France, is a region renowned for its enchanting landscapes, historic castles, and exquisite wines. Often referred to as the "Garden of France," this picturesque region is dotted with over 300 châteaux, each with its unique charm. Marvel at the grandeur of Château de Chambord, with its distinctive French Renaissance architecture, or wander through the elegant gardens of Château de Villandry. Explore the charming town of Amboise, where Leonardo da Vinci spent his final years, or immerse yourself in history at the fortified city of Chinon. The Loire Valley is also a paradise for wine lovers, with vineyards producing world-class wines such as Sancerre and Vouvray. Take a leisurely bike ride through the vineyards, sample the region's delicious cuisine, and experience the timeless beauty of this UNESCO World Heritage site.
5-Mont Saint-Michel
Perched on a rocky island off the coast of Normandy, Mont Saint-Michel is a marvel of medieval architecture and natural beauty. This UNESCO World Heritage site attracts millions of visitors each year with its captivating silhouette and rich history. As you approach the island, admire the abbey towering above, seemingly floating on the tides. Explore the narrow and winding streets, lined with charming shops and medieval houses, and visit the impressive abbey itself, with its Gothic spires and stunning views of the surrounding bay. Witness the dramatic tidal changes that surround the island, creating a unique and ever-changing landscape. With its mystical aura and breathtaking setting, Mont Saint-Michel is a true masterpiece of human ingenuity and natural wonder.
6-Bordeaux
Bordeaux, located in southwestern France, is a city renowned for its world-class wine production and rich cultural heritage. This vibrant city, nestled along the Garonne River, offers a perfect blend of history, architecture, and gastronomy. Explore the picturesque old town with its elegant buildings and charming squares, such as Place de la Bourse. Immerse yourself in the world of wine by visiting the Cité du Vin, an impressive museum dedicated to the history and culture of wine.
Take a stroll along the riverfront promenade, known as the Quai des Chartrons, lined with wine merchants and antique shops. Indulge in the culinary delights of Bordeaux, from savory dishes like entrecôte bordelaise to the famous canelé pastry. With its vibrant wine scene, architectural beauty, and delectable cuisine, Bordeaux offers a truly unforgettable experience.
7-Alsace
Nestled in the northeastern part of France, Alsace is a region known for its unique blend of French and German cultures, picturesque villages, and exquisite wines. Explore the enchanting town of Colmar, with its half-timbered houses and flower-lined canals, resembling a fairytale setting. Visit the charming village of Eguisheim, known for its circular layout and vibrant-colored buildings. Immerse yourself in the rich history of Strasbourg, the region's capital, with its stunning Gothic cathedral and charming old town, listed as a UNESCO World Heritage site.
Indulge in the region's culinary specialties, such as choucroute (sauerkraut) and flammekueche (thin Alsatian pizza), paired with a glass of local Riesling or Gewürztraminer wine. With its blend of cultural diversity, charming landscapes, and gastronomic delights, Alsace offers a truly unique and memorable experience.
8-Dordogne
The Dordogne region, located in southwestern France, is a picturesque destination known for its stunning landscapes, prehistoric caves, and medieval castles. Explore the captivating village of Sarlat-la-Canéda, with its charming narrow streets, traditional stone houses, and vibrant market. Visit the famous Lascaux caves, a UNESCO World Heritage site, to admire the ancient cave paintings that date back thousands of years. Take a leisurely canoe trip down the Dordogne River, passing by scenic countryside and picturesque villages.
Discover the majestic Château de Beynac, perched high above the river, offering panoramic views of the surrounding valley. Indulge in the region's culinary delights, such as truffles and foie gras, accompanied by a glass of local Bergerac wine. With its natural beauty, rich history, and gastronomic treasures, the Dordogne region is a true haven for nature lovers and history enthusiasts.
9-Normandy
Normandy, located in the northwestern part of France, is a region steeped in history, natural beauty, and culinary delights. Explore the historic D-Day landing beaches, where the Allied forces made their crucial invasion during World War II. Visit the charming port town of Honfleur, with its picturesque harbor and colorful buildings, which have inspired many famous artists—Marvel at the awe-inspiring cliffs of Étretat, with their dramatic formations and breathtaking views.
Immerse yourself in the medieval history of the city of Rouen, home to the stunning Rouen Cathedral and the Place du Vieux-Marché, where Joan of Arc was executed. Indulge in the region's culinary specialties, such as Camembert cheese and apple-based dishes like tarte Normande. With its fascinating history, stunning landscapes, and gastronomic delights, Normandy offers a captivating experience for every visitor.
10-Marseille
Marseille, France's second-largest city, is a vibrant and multicultural metropolis located on the Mediterranean coast. Known for its rich history, diverse culture, and bustling port atmosphere, Marseille offers a unique blend of old-world charm and modern urbanity. Explore the historic Vieux Port, the heart of the city, with its lively fish market and picturesque harbor. Visit the iconic Notre-Dame de la Garde, perched high on a hill, offering panoramic views of the city and the sea. Wander through the narrow streets of Le Panier, the oldest neighborhood in Marseille, with its colorful facades and trendy art galleries.
Immerse yourself in the local culture by tasting traditional dishes like bouillabaisse, a flavorful fish stew, or enjoying a pastis, the famous anise-flavored liqueur. With its vibrant cultural scene, vibrant street life, and Mediterranean charm, Marseille is a city that captivates the senses and offers a truly memorable experience.