South Africa is a diverse and breathtakingly beautiful country that offers a wealth of unique experiences for travelers. From vibrant cities to stunning natural landscapes, South Africa has something for everyone. Whether you're interested in wildlife, history, adventure, or simply soaking up the sun on pristine beaches, this country has it all.
1-Cape Town
Cape Town, often referred to as the "Mother City," is a captivating destination located on the southwestern coast of South Africa. It boasts a unique blend of natural wonders, cultural diversity, and historical significance. With its picturesque coastline, stunning beaches, and iconic Table Mountain as a backdrop, Cape Town is a haven for nature lovers and adventure seekers. Visitors can take a cable car ride to the top of Table Mountain and be rewarded with panoramic views of the city and the surrounding Atlantic Ocean. 
The city's vibrant waterfront area offers a bustling atmosphere with a wide range of restaurants, shops, and entertainment options. History buffs can explore Robben Island, where Nelson Mandela was imprisoned, and gain insight into South Africa's struggle for freedom.
2-Kruger National Park
Kruger National Park, located in the northeastern part of South Africa, is a wildlife enthusiast's paradise. This world-renowned park spans vast landscapes, encompassing diverse ecosystems and an abundance of wildlife. The park is home to the iconic Big Five – elephants, lions, leopards, buffalos, and rhinos – as well as a myriad of other species. Visitors can embark on exhilarating safari adventures, either by self-driving or with experienced guides, to witness these majestic animals in their natural habitat. 
The park offers a range of accommodation options, from luxurious lodges to rustic campsites, allowing visitors to immerse themselves in the African wilderness. In addition to game drives, Kruger National Park offers guided bush walks, providing an up-close and personal experience with nature. The park's conservation efforts and commitment to preserving biodiversity make it a must-visit destination for wildlife enthusiasts and nature lovers.
3-Johannesburg
Johannesburg, the largest city in South Africa, is a bustling metropolis that offers a vibrant urban experience. Known as the economic and cultural hub of the country, Johannesburg is a melting pot of diverse cultures, history, and creativity. The city has emerged from a turbulent past and now showcases its transformation through museums, art galleries, and historical landmarks.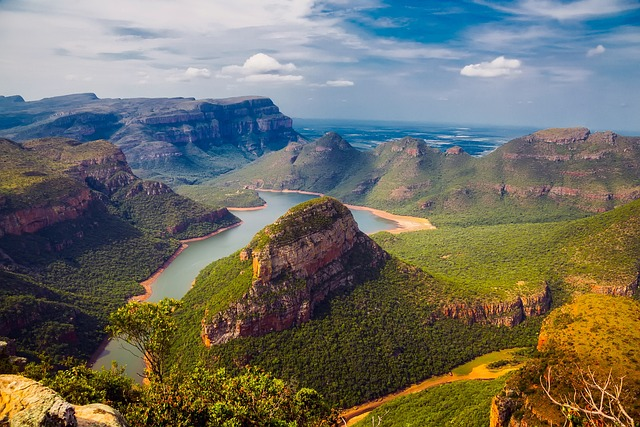 The Apartheid Museum provides a profound insight into the country's apartheid era and the struggle for equality. Constitution Hill, once a prison, now stands as a symbol of democracy and human rights. Johannesburg's neighborhoods offer a wealth of experiences, from the trendy and artistic Maboneng Precinct to the vibrant and cultural Newtown district. Visitors can explore vibrant markets, sample local cuisine, and enjoy the city's lively nightlife. Johannesburg is also a gateway to nearby attractions such as the Cradle of Humankind, a UNESCO World Heritage Site, and the stunning Magaliesberg Mountains.
4-Garden Route
Stretching along the southeastern coast of South Africa, the Garden Route is a breathtaking scenic route that captivates visitors with its natural beauty. This coastal paradise offers a diverse range of attractions, including pristine beaches, dense forests, and dramatic cliffs. The route encompasses charming towns such as Knysna, Plettenberg Bay, and Wilderness, each offering its unique charm. Travelers can embark on unforgettable adventures, including hiking trails through ancient forests, canoeing along tranquil rivers, and bungee jumping from towering bridges. 
Tsitsikamma National Park is a highlight of the Garden Route, boasting indigenous forests, dramatic coastlines, and exhilarating outdoor activities. The region's mild climate and picturesque landscapes make it a year-round destination for nature lovers and outdoor enthusiasts. Whether it's exploring nature reserves, enjoying water sports, or simply taking in the breathtaking views, the Garden Route promises an unforgettable journey through South Africa's natural wonders.
5-Durban
Situated on the eastern shores of South Africa, Durban is a vibrant coastal city renowned for its warm climate, golden beaches, and multicultural heritage. The city offers a unique blend of Indian, Zulu, and European influences, creating a vibrant and diverse cultural atmosphere. Durban's beachfront promenade, known as the Golden Mile, stretches for miles and provides a picturesque setting for leisurely walks, cycling, and various water sports. The city's Indian District, with its bustling Victoria Street Market, offers a feast for the senses with its aromatic spices, colorful textiles, and delicious street food.
For a taste of Durban's rich history and cultural heritage, visitors can explore the Phansi Museum, which showcases traditional Zulu art and artifacts. uShaka Marine World is a popular attraction, featuring an aquarium, water park, and interactive marine experiences. With its laid-back atmosphere, vibrant street markets, and fusion of flavors, Durban offers a unique and enchanting experience on the South African coastline.
6-Stellenbosch
Nestled in the heart of South Africa's wine region, Stellenbosch is a charming town that promises a delightful experience for wine enthusiasts and nature lovers alike. Surrounded by rolling vineyards and breathtaking Cape Dutch architecture, Stellenbosch offers a picturesque setting for exploring award-winning wineries and savoring world-class wines. Visitors can embark on wine tours that take them through the region's historic estates, where they can sample a variety of vintages and learn about the winemaking process.
The town itself is a treasure trove of art galleries, boutique shops, and cozy cafes, perfect for strolls and indulging in delectable cuisine. Stellenbosch's rich cultural heritage is also evident in its museums and galleries, which showcase the works of local artists and the town's fascinating history. For outdoor enthusiasts, the surrounding mountains provide ample opportunities for hiking, mountain biking, and exploring the lush landscapes. Stellenbosch offers a unique blend of wine, culture, and natural beauty, making it a must-visit destination in South Africa.
7-Drakensberg Mountains
The Drakensberg Mountains, located in the eastern part of South Africa, are a majestic range that captivates visitors with their dramatic cliffs, cascading waterfalls, and awe-inspiring vistas. This UNESCO World Heritage Site offers a paradise for nature lovers and outdoor adventurers. Hikers and climbers can explore an extensive network of trails, ranging from leisurely walks to challenging treks, leading to breathtaking viewpoints and hidden valleys.
The Royal Natal National Park, nestled within the Drakensberg, showcases the iconic Amphitheatre, a sheer rock face that stretches for kilometers and offers a breathtaking sight. The mountains are also home to ancient San rock art, providing a glimpse into the region's rich cultural heritage. Visitors can immerse themselves in the tranquility of the Drakensberg, taking in the pristine beauty of its landscapes, spotting wildlife, and enjoying the serenity of crystal-clear streams. Whether it's hiking, birdwatching, or simply basking in the natural splendor, the Drakensberg Mountains offer an unforgettable experience for nature enthusiasts.
8-Addo Elephant National Park
For an unforgettable wildlife experience in South Africa, Addo Elephant National Park is a must-visit destination. Situated in the Eastern Cape, this national park is dedicated to the conservation and protection of elephants and other wildlife species. The park is home to a large population of African elephants, offering visitors a unique opportunity to observe these gentle giants in their natural habitat. Embarking on a safari adventure through Addo Elephant National Park allows visitors to witness not only elephants but also other iconic African animals such as lions, buffalos, zebras, and various antelope species.
The park offers a range of guided game drives, walking safaris, and self-drive options, ensuring an immersive experience for all types of travelers. The diverse landscapes, including dense forests, rolling plains, and scenic valleys, provide a stunning backdrop for wildlife sightings and photography. Addo Elephant National Park is a testament to South Africa's commitment to wildlife conservation, making it a must-visit destination for animal lovers and nature enthusiasts.
9-Cape Winelands
Just a short drive from Cape Town, the Cape Winelands region is a paradise for wine connoisseurs and food enthusiasts. This picturesque region encompasses a collection of historic towns, including Stellenbosch, Franschhoek, and Paarl, where visitors can indulge in the rich flavors of South African wines and gourmet cuisine. The vineyards, set against a backdrop of majestic mountains and verdant valleys, produce a wide variety of exceptional wines, from crisp whites to robust reds. Wine tastings and cellar tours offer a chance to learn about the winemaking process and experience the unique terroir of the region.
In addition to wine, the Cape Winelands offer a culinary experience like no other. Visitors can dine at award-winning restaurants, farm-to-table eateries, and charming bistros, savoring a fusion of flavors influenced by local produce and international techniques. The region's historic towns are a delight to explore, with their Cape Dutch architecture, art galleries, and boutique shops. Whether it's wine tasting, culinary delights, or immersing oneself in the cultural heritage, the Cape Winelands provide an unforgettable journey for food and wine lovers.